Newcastle EDL march attracts more than 1,500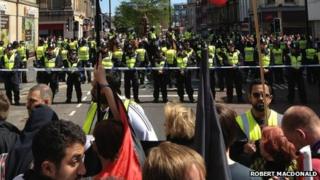 More than 1,500 people have attended a demonstration organised by the English Defence League (EDL) in Newcastle, Northumbria Police said.
Hundreds of officers were on duty for the EDL's first march since the murder of Drummer Lee Rigby in Woolwich.
A counter-demonstration, by a group called Newcastle Unites, arranged before the killing, also took place.
Police said they made "a number of arrests" but the marches passed off "without major incident".
Officers estimated between 1,500 and 2,000 took part in the EDL march and about 400 in the Newcastle Unites event.
The two marches finished about 100 yards apart, separated by lines of riot police, as the demonstrations brought city centre traffic to a standstill.
'Our streets'
Three men were arrested on suspicion of sending racist tweets, ahead of the protests.
Two of the men were from Gateshead and the other was from Stockton, on Teesside.
Several hundred EDL protesters gathered on the steps of St Mary's Cathedral in Newcastle city centre ahead of the march.
Shouts of "Whose streets? Our streets" rang out from the EDL supporters who also chanted "RIP Lee Rigby".
Chief Supt Gary Calvert said disruption was kept to a minimum.
"There were a number of arrests over the course of the day, mainly to do with alcohol or to prevent public order offences, however the vast majority of those taking part were well behaved," he said.
"Most of the arrests took place before the protests started and were part of a proactive strategy by police to avoid disorder and to minimise disruption."