Gateshead Trinity Square: £150m development opened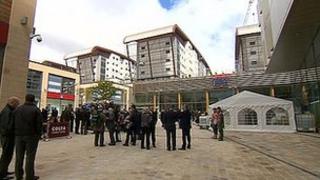 A £150m town centre development, which promises up to 1,000 new jobs, has been officially opened on Tyneside.
Gateshead's Trinity Square boasts a supermarket, cinema, bars, shops and accommodation for hundreds of students.
Gateshead Council leader, Mick Henry, was joined by centre manager Tony Pickering and Tesco store manager Marc Smith to officially open the site.
The project transformed the former site of the "Get Carter" car park, indoor market and former Tesco store.
Mr Henry said: "This means the start of the future for Gateshead as far as I'm concerned.
"We have been doing a lot of culture-led regeneration for the past 25 years, but this development with 1,000 jobs and the new store, means the future is bright for the town."
Demolition work on the car park site began in July 2010.