Grahame Giles 'failed' by ambulance service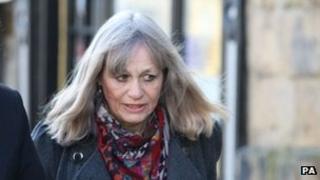 The North East Ambulance Service "failed" a man who died from a heart attack after a paramedic refused to administer drugs, a coroner has said.
Grahame Giles, 61, died in 2008, but his wife Marion learned three years later how he could have survived.
An inquest was opened after it emerged a previous coroner was not aware of details, including the fact that paramedic Brian Jewers was struck off.
Mrs Giles, from Northumberland, said her treatment was "horrendous".
She had not been aware that Mr Jewers refused to administer drugs and that doctors believed her husband may have otherwise survived.
Refused training
Coroner Tony Brown said there was a "clear missed opportunity" by the paramedic.
"This failure in care was also a failure in care provided by Brian Jewers' employers the North East Ambulance Service," he said.
The paramedic had been asked to attend a training course but he had declined, the inquest heard.
Katie Gollop, representing the trust, said that as a result he was not qualified to make the decision to administer the drug but in this case he had been instructed to do so by a doctor.
Speaking after a narrative verdict was delivered by the coroner, Mrs Giles said learning of the circumstances had been "an awful shock".
"I should have been told what had happened to my husband at the start," she said.
"I thought it was horrendous that they could have done that to me."
The ambulance service has previously apologised to the family.