Rivals jostle for South Shields by-election seat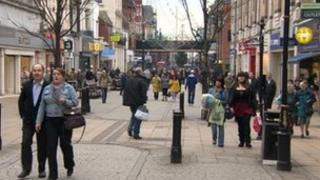 It has been a Labour seat since 1935, but challengers are hoping to pull off a shock result in South Shields.
Voters are choosing a successor to David Miliband after the former Foreign Secretary stepped down from the seat last month.
People in the town have returned a Labour MP for the past 19 general elections, most recently with a majority of 11,000.
However, the party said it was not taking victory for granted.
Nine candidates are taking part in the shortest by-election campaign since World War II. The vote takes place on 2 May, the same day as local elections taking place across England and Wales.
Labour has selected a locally-born candidate, but Emma Lewell-Buck has played down departing David Miliband's lack of local roots.
"David was a different kind of MP to what I'd probably be", she said.
"I was born here, and I spent all my life in South Tyneside. People know that I'd be a strong voice for them, and I'd fight for them in Westminster if I'm successful."
'Fed up'
The Conservatives have also chosen someone born in South Shields.
Karen Allen said: "I've got 15 years of business experience in the City of London.
"I want to come back to my home town because I think I can bring those skills here.
"I would be an advocate for enterprise and investment, to really get things going."
The Liberal Democrat candidate Hugh Annand described himself as offering people "real choice".
He said: "A lot of people are telling me that they are fed up with Labour running the place as a one-party state.
"I always always say if I believed in a one-party state I'd move to North Korea."
'Anything can happen'
The UKIP candidate said he was "in it to win it".
"It seems that a lot of people are liking what they are hearing about UKIP these days," Richard Elvin said.
"Basically, we're here to beat the coalition, that's our number one target.
"But you never know, anything can happen in a by-election."
Other candidates seeking election are Lady Dorothy Brookes from the British National Party; Phil Brown from the the Independent Socialist Party; Thomas Darwood, Independent; Howling Laud Hope from The Official Monster Raving Loony Party; and Ahmed Khan, Independent.
Voting takes place on Thursday, with the result due to be announced early on Friday.