Newbiggin Genealogy Project aims to map town's ancestry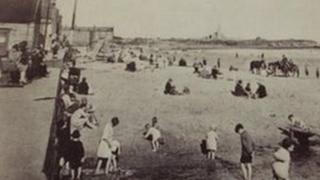 Trying to trace the family history of an entire town might sound like an ambitious project.
But Hilton Dawson, who grew up in Newbiggin-by-the-Sea on the Northumberland coast, is hoping to do just that.
The 59-year-old former Labour MP for Lancaster and Wyre was bitten by the family history bug when researching his own ancestry.
Last month he published Frank Renner's Bairns, a book about his ambitious great-great-grandfather, who went from rags to riches.
From his humble origins as a fisherman, Renner, known as the "kipper king", became a merchant and married his daughter to a Tyneside industrial magnate, before dying in mysterious circumstances.
Now Mr Dawson wants to bring the same experience of discovering fascinating stories to an entire community.
He said: "When I first organised a meeting about it at the Newbiggin Maritime Centre, I thought it would be one man and his dog, but 60 people turned up and it's just taken off from there."
Mr Dawson said people had provided "meticulously kept" family records, which would be digitally recorded before being returned to families.
'Incredible stories'
He also said the Northumberland county archives at Woodhorn had been a "tremendous resource".
"It's the memories, the stories, bits of family history that might be lost. We need to try to protect as many fragile records as we can," he said.
Once enough records have been gathered, Mr Dawson intends to make them available to the public in a number of ways.
"They're going to be available on the My Heritage website, which anyone can join. We'll also be holding exhibitions and events in the local area, and creating publications."
On some of the tales he had come across during the project, Mr Dawson said there were "incredible stories of bravery and resilience".
"Men dying at sea, women in childbirth. There was no social security - it was very hard."
Newbiggin's local economy was based mainly on fishing before the turn of the 20th Century.
But when the local pit opened in 1908, Mr Dawson said the town was "transformed" as people moved in from further afield to find work in the new mine.
The colliery employed 1,400 people at it peak, but closed in 1967.
The local authority continues to develop the town's tourism industry, which has been a part of the Newbiggin economy since at least the early 20th Century.
Nevertheless the area still struggles with high unemployment.
'Unique' project
So far Mr Dawson and his team have managed to gather records of 2,600 people, which are stored on their database.
"There are seven people on the management committee, which runs the project, but we've had about 300 people contributing so far," he said.
The project has made use of social media to connect with more people, setting up a Facebook page.
But Mr Dawson has much grander ambitions, hoping to get information on about 40,000 people in the next couple of years.
To do that he will need funding, which he hopes to secure by the end of this month.
On 29 April the team will find out whether or not they will get £40,000 from a grant from the Lottery Heritage Fund.
If successful, they will use the money to hire a member of staff to work on the project for 18 months.
Although the process is very competitive, Mr Dawson said his project was "unique".
He said: "I've been working on this for 18 months and I've not come across anything else like it in that time."