Lee Halpin death: Post-mortem tests prove inconclusive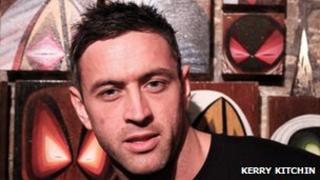 A post-mortem examination of a filmmaker found dead inside a derelict building has proved inconclusive, an inquest has heard.
Lee Halpin, 26, had planned to spend a week living on the streets of Newcastle as he made a film about homelessness.
He was found dead on 3 April. Two men have been arrested and bailed on suspicion of supplying a controlled drug.
Further tests will now take place on his body, coroner David Mitford said.
The inquest heard that he was identified by his father after he was found by police.
Mr Mitford said the hearing would resume as soon as possible.
On the day before he started his project, Mr Halpin posted a video on YouTube saying he had been made aware of the growing number of homeless people and the possible repercussions of changes to housing benefit.
His project was part of an application to an investigative journalism scheme.