Durham Light Infantry silverware sale raises almost 62k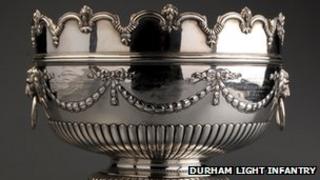 Silverware put up for sale by a former County Durham regiment to pay for a memorial, has raised almost £62,000.
The Durham Light Infantry (DLI) collection included a solid silver punch bowl, claret jugs and posy vases.
The 132 lots up for sale in Newcastle were expected to fetch up to £60,000, but actually raised £61,960.
The cash will go towards funding for a bronze replica of the DLI memorial statue at the National Memorial Arboretum in Staffordshire.
The 1892 punch bowl was expected to fetch about £2,000, but sold for £4,700. Several other lots also achieved higher than expected bids.
A spokesman for the DLI Museum in Durham said the sale had been a "fantastic success".
The bronze statue will be a replica of a DLI memorial statue that was unveiled at the National Memorial Arboretum in July.
Once complete, the statue, which is based on a photograph of the then 18-year-old Colour Sergeant Brandon Mulvey from Chester-le-Street, will be placed in Durham City.