Lindisfarne Gospels host Durham University gets £500k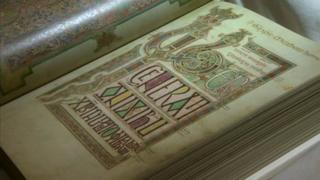 Durham University has been awarded almost £500,000 to help it host an exhibition of the 1,300-year-old Lindisfarne Gospels this summer.
The Gospels, created by monks on Northumberland's Holy Island in AD700, in honour of St Cuthbert, are currently in the British Library.
The university is hosting an exhibition from July which will also include items from St Cuthbert's tomb.
The grant has been awarded by the Heritage Lottery Fund.
The exhibition, from 1 July will display Europe's oldest surviving bound book, the St Cuthbert Gospel, Anglo-Saxon artefacts and medieval manuscripts.
It will be the first time since the 16th Century that the jewelled cross, travelling altar and sapphire ring found in St Cuthbert's coffin will be shown alongside the Gospels.
Connect people
Professor Chris Higgins, vice-chancellor at Durham University, said: "The Lindisfarne Gospels is one of the most remarkable books and has a uniquely important place in the art, culture and Christian Heritage of the North East.
"This will be a region-wide festival to connect as many people as possible to the story of the Gospels, enabling thousands of people to learn more about their heritage."
The Gospels were carried 1,000 miles around the region from Holy Island, with the body of St Cuthbert, for 200 years before reaching Durham Cathedral in AD995, where they remained until the Reformation.
The exhibition is being also being organised by Durham Cathedral, the county council and the British Library.