Danio cargo vessel runs aground on Farne Islands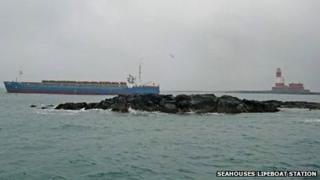 A 262ft (80m) cargo vessel has run aground off the Northumberland coast.
The Seahouses Lifeboat Station received a distress call from the cargo vessel Danio in the early hours of Saturday.
The ship got caught on rocks on the Farne Islands, a sanctuary to seals and seabirds, about 3 miles (5km) from the mainland.
Salvage teams are at the scene but there are no reports of any fuel leak or injuries. The crew of six are spending the night on board.
The vessel, which was built in 2001 and registered in Antigua and Barbuda, was sailing from Perth to Antwerp in Belgium with a cargo of timber.
It ran aground near Little Harcar rock, close to the Longstone Lighthouse, at about 04:30 GMT.
Ian Clayton from the RNLI said there were concerns about possible environmental damage if oil started leaking from the vessel.
But National Trust ranger David Steel said he was "hopeful" the vessel would pass without "any incidents".
'Overnight watch'
He said: "Everything seems good. It's only if there is a spillage we'll become concerned.
"We have been very fortunate that this has happened out of the height of the season. If it had happened in mid-summer, it could have been disastrous."
It was hoped the ship would be moved by a tugboat during high tide but this has not been possible.
Mr Clayton said Seahouses lifeboats had been with the vessel for 15 hours and a crew from Berwick-upon-Tweed would be on watch overnight.
A meeting will take place on Sunday morning involving various officials - including the coastguard, pollution control experts and salvage teams - to work out the best way to move the vessel.
Earlier, Mr Clayton said: "It is not a good area for any shipping to be in.
"It is lying in quite a tricky location and it will be difficult for the tugs to get in there to try and get the vessel freed.
"Obviously we have concerns for any possible environmental damage should any oil start to leak from this vessel, because of the very sensitive nature of the Farne Islands."
The island is home to about 80,000 pairs of seabirds and a large grey seal colony.