Rare locomotive panels found in Northumberland pub garden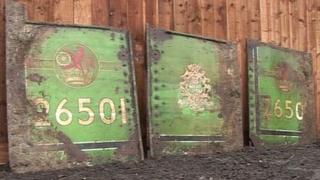 Parts of a locomotive, scrapped in the 1960s, have been found in the garden of a pub in Northumberland.
The panels from an Electric Bo-Bo Class ES1 locomotive were found at the The Swan in Choppington.
Chris Stevens, who owns the pub, found the panels while he was replacing an old fence.
The engine was used until the 1960s to haul goods to and from Tyneside and is one of only two engines of its kind, the other being on show in a museum.
Mr Stevens said: "We put them to one side when we saw the British Railway logo and the North Eastern Railway logo on them.
"I called my friend and he said 'let me find out about them' and he rang back five minutes later and said 'they're of regional and possibly national significance'."
He added: "I can't believe after 50 years of being buried in a muddy bank, there's so much paintwork and colour on them."
'Oh my goodness'
The locomotive, known as Bo-Bo 2, has a sister train known as Bo-Bo 1 which was restored and is on display at the National Railway Museum in Shildon, County Durham.
Anthony Coulls, from the National Railway Museum, said: "To see these bits of an engine that have been lost for more than 40 years is really quite exciting. When we saw the pictures, we thought 'oh my goodness'."
Gordon Newman worked on the engine and controlled the bow that would connect the train to the overhead electric cables to power the train.
He said: "[Both engines] were stationed at Heaton junction and they were used to transport heavy goods on the quayside.
"It was bringing the imports, which were loaded on the wagons and taken up, and they were distributed around the country.
"I'd like to see the panels preserved and go to somewhere where people can see them and appreciate them."