Calligrapher Tom Fleming puts work on show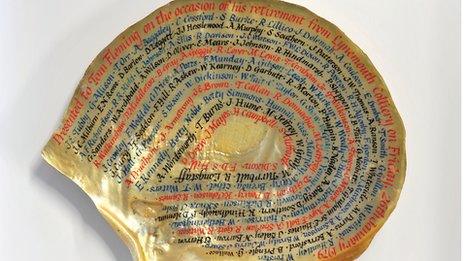 A 92-year-old calligrapher has put his work on show for the first time.
Tom Fleming's first exhibition, A Life in Letters, includes work dating back to the mid-1930s and is on show at the University of Sunderland's Design Centre Gallery until 22 March.
"It's always been a big part of my life," said Mr Fleming, from Northumberland. "I started when I was 14. I was fascinated by surveyors working on plans and the lettering they were using."
Originally from Armadale, West Lothian, Scotland, he set out on a career as a mining surveyor combining his professional duties with calligraphy.
He later moved to Woodhorn Village in Northumberland where he shared his passion by teaching the art and founded the Society for Northumbrian Scribes in 1989.
"When I started teaching there wasn't a lot of books about how to learn it," he said.
"We started a small group but it has grown with more people being keen and we have an exhibition every year.
"It's just a hobby, I think you can lose yourself in it, you become so absorbed thinking about new ideas to present your lettering and artwork."
Dr Manny Ling, who is a member of the group, described Mr Fleming as an "inspiration".
"He's certainly been an inspiration to me and has also played a major part in promoting both the practice and understanding of calligraphy through his teaching," he said.
Calligraphy is something you have to "keep at", Mr Fleming said. He did so by attending evening classes at Newcastle University in 1947.
He said: "My lecturer there encouraged me to do something different and I found myself going to the beach at Newbiggin by the Sea and picked limpet shells and stones to write on, so I've made that a speciality."
Mr Fleming finds inspiration from a range of sources, from the bible to something as simple as his colleague's names.
"When people have retired, I've usually done something on shell or stone to commemorate them leaving, so having done that for everybody else I did one for myself and that's my retirement shell.
"It's got the names of all of my colleagues who have helped me produce the exhibition and that's on a large mother of pearl shell."
Related Internet Links
The BBC is not responsible for the content of external sites.