March through Newcastle over £100m cuts to services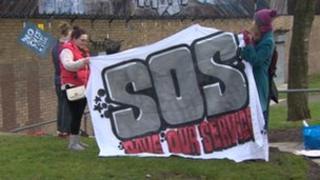 More than 1,0000 protesters held a march in Newcastle over council plans to cut services including shutting libraries and swimming pools.
Labour-run Newcastle City Council is axing 1,300 jobs in an attempt to cut £100m from its budget.
Updated budget plans confirmed the council will end or reduce funding for seven of its 18 libraries in June.
The Save Our Services march was from the Centre for Life to the Monument in the city centre.
The protest has been organised by several local groups including Save Newcastle Libraries, the Walker Action Group and the Anti-Cuts Network.
'Fed up'
On Friday the council revealed its plans to shut two respite centres for people with learning disabilities had been placed on hold.
The council also said it remained hopeful that investment would emerge to allow Fenham and Cruddas Park libraries to remain open.
Annie Rutter, of Save Moorside Library Campaign, in Arthur's Hill, said: "I'm fed up of hearing councillors make excuses for these cuts.
"They should stand up for the people they are supposed to represent and not cut services that our communities need."
The council had originally proposed a 100% cut to its support for the city's arts and cultural organisations but it has now announced an annual fund of £600,000 to support the sector.
'Fair settlement'
Council leader Nick Forbes said: "The council's financial position is no better than what it was in November.
"When we announced the proposals people were shocked at what the government cuts would mean for the city over the next three years, and in fact since then government has announced further cuts to local government.
"Many of our public services face a fiscal cliff over the next few years, but I have always said that with the support of communities, and everyone pulling together, we would be able to deal with the many challenges that we face as a city."
A spokesman for the Department for Communities and Local Government said: "This settlement is a fair one - fair to north and south, fair to rural and urban areas and fair to shires and metropolitan areas - and will reward councils ready to strive for their communities and gives them another year to get their house in order.
"For example, Newcastle's spending power per household is £2,516 which is £700 more than the £1,815 per household in Wokingham.
"Under the new system, councils get to keep funding raised under business rates, so the more councils - including Newcastle - help promote local growth, the more funds a council will receive."