Newcastle Council reveals budget changes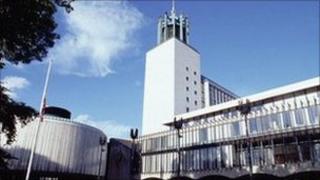 Council bosses are relying on community groups and businesses to help them save services including libraries.
Newcastle City Council is axing 1,300 jobs as it attempts to cut £100m from its budget, with Labour leader Nick Forbes warning of a "fiscal cliff".
Updated budget plans have confirmed the council will end or reduce funding for seven of its 18 libraries in June.
A proposal to close two respite centres for people with learning disabilities has been placed on hold.
But Cheviot View in Longbenton and Castledene in South Gosforth could still close in 2014.
'Unprofessional'
It said "serious concerns" had been raised by the families regarding the quality of alternative provision.
Liberal Democrat leader David Faulkner said the budget process had been dealt with in an "unprofessional" manner and that more could have been done to save services.
"This budget was about the Labour Party's choices in Newcastle and I think they've made the wrong ones," he said.
Mr Forbes said: "All we've done is illustrate what the government cuts that have been announced for Newcastle mean in practice over the next three years."
The council insisted the city would retain a "comprehensive" library service.
It remains hopeful that investment will emerge to allow Fenham and Cruddas Park libraries to remain open.
Talks are also ongoing with groups interested in taking over Jesmond and High Heaton.
Dinnington, Moorside and Denton Burn will shut their doors in June.
Others will close in March 2015 unless a solution can be found.
Community partnerships are also being sought as a means of keeping leisure facilities open.
The council had originally proposed a 100% cut to its support for the city's arts and cultural organisations but it has now announced an annual fund of £600,000 to support the sector.
Council tax will be frozen at current levels for 2013-14 if the budget is approved.
The amended three-year plan will be discussed by the council's cabinet on 25 February.