Puffing Billy's 200th anniversary to be celebrated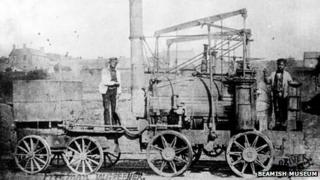 The 200th anniversary of a steam locomotive that became the "beating heart" of a Northumberland village is to be celebrated.
Puffing Billy was one of the first steam locomotives to transport coal from Wylam Colliery to Lemington Staithes on the River Tyne.
Developed by Newburn-born engineer William Hedley in 1813, it paved the way for the development of the rail industry.
Now, 200 years later, communities from Wylam to Lemington will celebrate its "fantastic breakthrough" at the Puffing Billy Festival.
Tom Martin, chairman of Wylam Parish Council, said "The steam railway was the beating heart of Wylam - it made it what it is today.
"It has a fantastic railway heritage. Wylam 200 years ago would be unrecognisable, it was what developed and created how Wylam is now."
The Puffing Billy was a commercial steam engine used to haul coal wagons on metal rails.
Hedley discovered that a smooth wheel running on a smooth rail could provide enough friction for an engine to pull a train of loaded wagons.
Prior to the Puffing Billy, horses pulled single wagons on wooden rails.
The locomotive took about 12 minutes to cover one mile of track, travelling at about 5mph.
'Fosters community groups'
The Puffing Billy remained in use until 1862 and the original locomotive is on display in the Science Museum in London - the oldest locomotive in the world to do so.
The "historic importance" of the Puffing Billy is realised by the village of Wylam as it is used as the council's emblem at the entrance of the village.
A fully operational replica of the locomotive was built and launched by Beamish Museum in 2005.
To commemorate 200 years since its invention, Wylam Parish Council and Beamish Museum would like local groups and communities to help celebrate its history.
Throughout the summer, a series of events will be held to celebrate Hedley's feat, culminating in the replica of Puffing Billy on display at Wylam and Newburn in September.
Mr Martin said: "We are enormously looking forward to it.
"It will have a positive effect for the village and I hope it fosters community groups along the line.
"It's a wonderful opportunity to celebrate and have a knees up at the same time."