Petition to save Newcastle City Hall signed by 11,000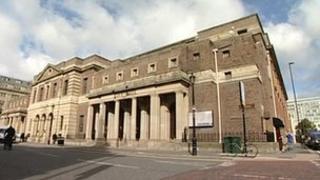 A petition containing more than 11,000 signatures has been handed to Newcastle City Council in a bid to protect the future of the City Hall.
The 85-year-old venue is currently "under review" after the council announced plans to trim £90m from its budget and cut 1,300 jobs.
Members of the North East Music History are calling for the City Hall's "rich musical history" to be recognised.
A public consultation on the budget ends on Friday.
A spokesman for North East Music History said: "We hope that the council will take note that so many thousands of people value Newcastle City Hall.
"We urge the council to think beyond selling the site or making it suffer."
Stars including Sting, Bryan Ferry and Alun Armstrong have backed plans to save the venue which has more than 2,000 seats.
The council is investigating the possibilities of selling the site, entering into a partnership with one of the city's universities or transferring management responsibilities to a third party.
Among those who have performed at the City Hall are The Beatles, Elton John and David Bowie.