Gateshead trials bus lane bollards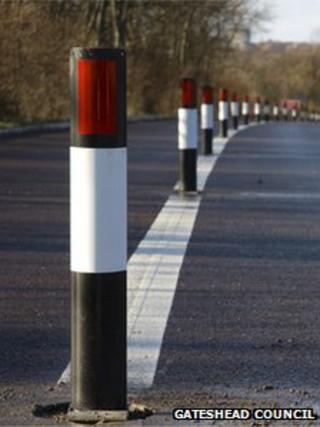 Plastic bollards are being installed on roads in Gateshead to stop drivers ignoring lane markings.
They will be placed on the solid white bus lane line and are intended to deter motorists from cutting into the lane early or ignoring them completely.
Gateshead Council said it believed it was the first authority in mainland Britain to experiment with bollards to protect bus lanes.
They are being trialled on the A184 Felling Bypass and A167 Durham Road.
'Peeved drivers'
The council said no end date had been set for the trial and it would monitor its success with surveys and by liaising with bus companies.
Nick Clennett, head of transport strategy at Gateshead Council, said: "We receive quite a lot of complaints from the bus operators but also from other motorists who get really peeved by other drivers cutting in front of them.
"We've been looking at how we might best tackle it. These bollards are something that we don't think has been tried before for this purpose, but they seem to offer a sensible solution."
Costing about £75 each, the bollards are one metre high and would not cause an accident if a driver were to hit them, the council said.
It added that two types were being used in the two areas, flexible bollards on the A184 while the A167 will have hinged bollards.