Croatian ship's cargo 'froze' causing it to list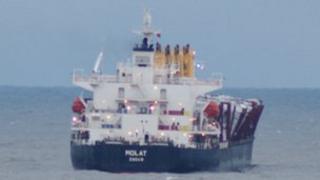 A Croatian ship got into difficulties off the Wearside coast when its wood load froze, making it heavier and causing it to list.
The Molat, with 20 crew on board, began to list on Tuesday morning, 40 miles (60km) out in the North Sea.
The 28,300-tonne vessel left Norrkopping in Sweden on Monday and was destined for Alexandria in Egypt.
After anchoring at Seaburn on Tuesday night, it has now berthed at Sunderland Port prior to undergoing safety checks.
Watchwoman Lynda Hillerby, of Humber HM Coastguard, said: "We believe the wood froze because it was so cold, making the load heavier and causing the ship to list by five degrees.
"The crew did not want to carry on in such rough seas before undergoing checks."