Snowball 'consideration' plea by police in Sunderland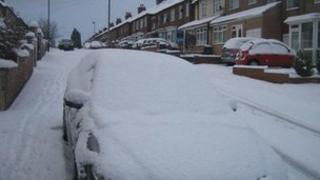 People playing in the snow have been urged to show "a little consideration" by police on Wearside.
The appeal follows dozens of reports of snowball-related anti-social behaviour in Sunderland.
Northumbria Police said that in the 24 hours to Saturday morning, it had 70 calls reporting snowballs being thrown at people, cars or houses.
A spokesman said that as with all incidents of anti-social behaviour, appropriate action would be taken.
Insp Paul Stewart from Sunderland Area Command said: "It is easy to turn a topic like this into a joke and shrug it off, but those people who have called police clearly have genuine concerns.
"Its not nice to be driving along and for a flurry of snowballs to hit your windscreen or be an elderly person hit by a snowball while walking home or to the shops.
'Degree of tolerance'
"I'd ask those people throwing snowballs to have a little consideration for others and remember that these things are only fun if you want to take part."
He also called for a "degree of tolerance" from those reporting such behaviour.
"Although anti-social behaviour is not acceptable, it is only natural that children will take the opportunity presented by the wintry weather to enjoy playing in the snow," he said.
Further snow showers, heavy at times, have been forecast for County Durham, Northumberland and Tyneside, with the Met Office issuing a yellow alert.
All major routes remain open, but police have warned people to be alert to changing conditions and drive appropriately for the weather.