TRW in Houghton-le-Spring attracts £15m investment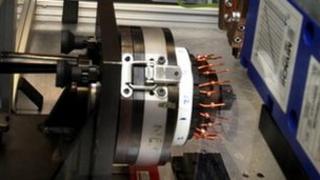 A US-based car parts company has announced a £15m investment in its plant on Wearside.
TRW said that the money, £1.75m of which comes from the Regional Growth Fund, will help attract global contracts.
About 250 workers are based at the site, at Houghton-le-Spring, near Sunderland, which manufactures power steering motors.
Two new production lines will be built, one in 2013 and one a year later.
The company said the investment meant it was able to attract Renault as a new customer, and grow its business with General Motors.
The news was welcomed by Sunderland City Council, which worked with TRW on the successful Regional Growth Fund submission and supported the company to help it develop a laboratory.
Paul Willson, controller at the plant, added: "We're developing electric motors, and it was critically important to us to be able to look at current technology, assess gaps in the marketplace and develop products for new applications to fill that gap.
"We've got the ideas and the ability to develop innovative products, which differentiate us from our competitors and have already generated significant interest from our customers."