Bafta nomination for Tina Gharavi's smuggled film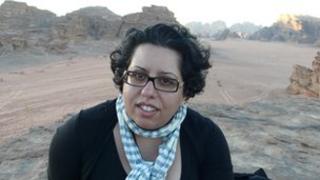 It was five years in the making and had to be smuggled out of Iran, but all the cloak and dagger filming and danger has paid off for screenwriter Tina Gharavi.
The lecturer, who fled Iran as a six-year-old, has been nominated for a Bafta in the outstanding debut by a British writer, director or producer category.
The nomination is for her first feature film, I am Nasrine, which she wrote, directed and produced in between lecturing in film and digital media at Newcastle University.
It tells the story of a 16-year-old Iranian girl caught by police riding pillion passenger on her boyfriend's motorbike, and exposing too much flesh.
She is arrested and sexually assaulted by police and ends up fleeing her comfortable, middle-class home with her brother Ali.
They end up living on a council estate in the north-east of England.
Bafta nominees are not informed of their nomination and Ms Gharavi found out about her accolade on Facebook.
She said: "I woke up and someone had put 'congratulations' on my Facebook page - quite unbelievable.
"I'm still smiling, although I thought at first it was an elaborate hoax. It is a small film and to be acknowledged in this way, I feel like I've won."
I am Nasrine cost about £250,000 to make and involved production company Bridge and Tunnel.
It premiered at the Berwick Film & Media Arts Festival in 2011 and has been shown at Newcastle's Tyneside Cinema eleven times.
Despite its prestigious nomination, the film does not have a distributor.
Ms Gharavi, 40, hopes that will now change after being suddenly thrust in to the spotlight.
"It is difficult getting a film to a wider audience when it has no stars and is not an obvious crowd-pleaser", she explained.
The opening scenes were shot illegally on the streets of Tehran without a permit and the crew had to keep dodging police.
Ms Gharavi was also unable to credit locals who helped make the film for fear they would be punished for portraying Iran in a negative light.
It took many years to develop the story and it was based on listening to the often harrowing stories of refugees and asylum.
She mixed their experiences with her own - leaving Iran in 1979 during the revolution - to come up with an original story.
After fleeing Iran, she came to the UK and lived in the Midlands.
She also lived in New Zealand, the United States and France before settling in Newcastle.
'Smiling already'
"The film is my love letter to the region, if you love somewhere you can also criticise it a bit and look at it for what it really is", she says.
"There are some beautiful scenes and some amazing people, but there are some things that aren't great and we need to confront as a community, such as casual racism."
And Ms Gharavi takes it in her stride that her offering is up against James Bobin for his directorial feature debut for The Muppets film.
"Yes, I'm up against the little green men and I will watch that film.
"But to be honest I feel as if I've won by being nominated. I'm smiling already."