Chester-le-Street Civic Heart Arch to be demolished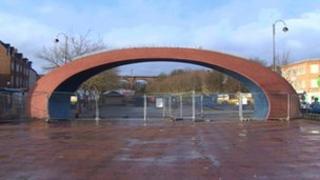 A County Durham artwork, which was erected in 2007 at a cost of £300,000, is to be demolished.
Chester-le-Street's Civic Heart Arch has suffered ongoing structural problems and was fenced off last year by Durham County Council.
Residents were asked whether it should be repaired or removed. More than 94% of those who responded called for it to be pulled down.
A council spokesman said demolition work would begin in February.
The arch was commissioned by the former Chester-le-Street District Council as part of the redevelopment of the town's Market Place.
But a structural examination revealed that hexagonal briquettes which cover its surface had moved due to exposure to the weather.
'Clear message'
Durham County Council currently spends £300 a month on monitoring the site and making it safe.
The authority launched a six-week consultation in November on three possible options for the future of the arch, which included its full repair at an estimated cost of £282,000.
Of the 925 people who took part in the consultation, 94.1% supported the removal of the arch. Only 3.5% believed the structure should be fully repaired.
Council leader Simon Henig said: "The feedback we have received from the consultation gives the clear message that residents and businesses in Chester-le-Street believe the best option for the future of the town centre is the demolition of the arch.
"In line with our promise to the public, now that we know their wishes we will waste no time in taking action to remove the arch and make good the Market Place."