South Shields £100m revamp plan unveiled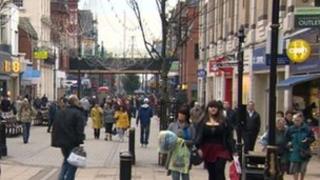 A £100m plan designed to breathe fresh life into a seaside town in the north east of England has been drawn up.
South Shields 365 aims to tackle the effects of the tough economic climate and ensure the area prospers in the future.
Among the plans are new shops, linking up the town centre and foreshore areas more closely and better transport infrastructure.
Business leaders welcomed the "ambition" of the project.
Cinema and library
South Tyneside Council leader and Labour councillor Iain Malcolm said: "At the moment we attract something like 1.8m visitors to the South Shields foreshore every year and over the course of the next decade I certainly would like to see that double, and for people not just to visit the foreshore but to come into the town centre itself."
He said research had shown that out of every £100 residents had to spend, only £3.70 was spent in the town.
As well as new shops, a cinema and library, the plans include a Metro and bus interchange and car parking improvements.
Mr Malcolm said: "This is about making sure we have a town centre which is fit for the future, fit for our residents and attractive and exciting for visitors who want to come to South Shields."
Geoff Ford, chairman of two South Shields engineering companies, Ford Aerospace and Ford Component, praised the council for the plans, which he said needed to be "imaginative and bold".
He said: "You just have to walk down King Street to see it's a view of what it used to be.
"We need to look at what it can be or make it even better if we can. I think it's a brilliant news."