Northumberland Park bid for dark sky status given backing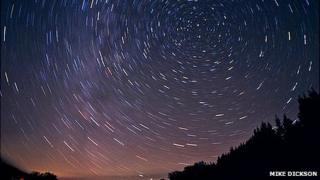 A bid for the darkness of the skies in north-east England to be given special status has received backing.
If approved by the International Dark-Sky Association (IDSA), the skies above the 400 sq mile (1,050 sq km) of the Northumberland National Park could become a Dark Sky Reserve.
Jodrell Bank, the internationally renowned astrophysics centre, said it was "keen to support the initiative".
The area would be the largest of its kind in Europe.
Gary Fildes, director of Kielder Observatory, explained: "This kind of backing is vital in demonstrating to the IDSA that we have a long-term commitment to protecting our skies and maintaining the tranquillity of our rural environment.
"The night sky in Northumberland and especially around the observatory still maintains that true darkness that can ignite and inspire all who see it. It is our most natural of heritages."
Richard Darn of Kielder Water and Forest Park said: "The British members of the IDSA would visit the site for several nights for the inspection.
"They will be arriving later in spring and armed with their light-meter readings, the status decision would then be made in around two months."
The UK's first dark sky park at Galloway forest was established after being granted the Dark Sky status by the IDSA in 2009.