Newcastle City Hall campaign concert held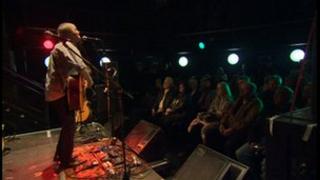 A concert has been held as part of a campaign to protect the future Newcastle's famous City Hall venue.
A review of the 85-year-old building is part of the consultation into multi-million pound budget cuts in the city.
Thousands of people have signed a petition calling for the venue to be protected and North East musicians held a concert to raise awareness on Sunday.
Newcastle City Council said proposals were being evaluated and it would continue for the foreseeable future.
Beatles and Stones
Among the musicians at Sunday's gig at The Cluny, in Newcastle, was Steve Daggett, who played with Lindisfarne during the 1980s.
He said: "I know there are nice new venues but they don't have the atmosphere the City Hall has."
Among those who have performed at the City Hall are The Beatles, Rolling Stones and David Bowie.
Hazel Plater, founder of the North East Music History group, said the venue was "incredibly important" for the city.
She said: "We have already lost venues in Newcastle. We have lost the Mayfair and we have lost Riverside and way back in time we lost the club A'Gogo so how much history do you want to get rid of?"
In November the authority announced cuts of £90m and more than 1,300 job losses spread over three years. It has now said another £10m needs to be cut from the budget and is carrying out consultations.
A council spokesman said: "As part of the consultation into the City Council's budget for the next three years, it's been proposed that a review of the City Hall operation be carried out, and the future use of the City Hall/City Pool site be considered in view of the proposed closure of the City Pool.
"As a result there has been considerable speculation, both locally and within the entertainment industry, that the City Hall is under threat of closure.
"The City Hall management have initially responded by putting forward a series of proposals which will enhance the financial viability of the City Hall.
"These proposals are currently being evaluated but, in the interim and for the foreseeable future, the City Hall will continue to operate as normal."