Police reassure community after Seaton Burn shooting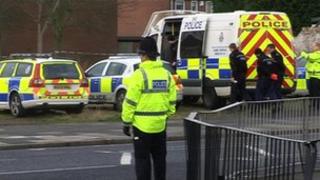 A senior police officer has sought to reassure people living near the scene of a shooting in a pub car park.
A 54-year-old man was shot in the back at the Six Mile Bridge Inn, Seaton Burn, North Tyneside, on Friday.
Northumbria Police said the incident was not being treated as a random attack and was believed to be part of internal disputes between criminals.
Eight people - seven men and a woman - have been arrested in connection with the shooting.
The man is being treated in hospital where his injuries are not thought to be life-threatening.
Five men, aged 21, 22, 23, 47 and 52, and a 25-year-old woman who were arrested have now been released on bail pending further inquiries.
Another two men, aged 34 and 47, arrested on Sunday have also now been bailed.
Assistant Chef Constable Jim Campbell said: "I must stress these types of incidents are relatively rare in the Northumbria Police area and the level of gun crime in our region is very low when compared to other largely populated areas."
Police patrols are being carried out in the area to reassure the community.
Mr Campbell said: "This incident is not being treated as a random attack and is believed to involve internal disputes between criminals in the area."
He said they "would not tolerate these incidents" and would "come down heavily" on anyone involved.