Huge tower crane in Gateshead is dismantled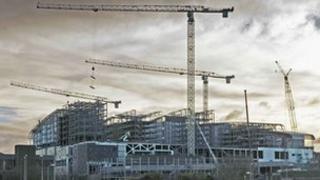 A massive crane which has dominated the skyline in Gateshead for almost a year is being removed.
The 266ft (80m) tower crane has been used to move steel and building materials at the £150m Trinity Square development in the town centre.
A supermarket, cinema, bars, shops and student accommodation are planned for the site.
Council leader Mick Henry said: "Seeing this colossal structure removed is tinged with sadness."
He added: "The tower cranes have been a constant source of interest for many months now; busily back and forth with steel for the rapidly emerging town centre.
'Exciting milestone'
"It's a very exciting moment too. It means we're getting ever closer to the opening of the new bars, restaurants, shops and cinema that we've all been waiting for."
A new Tesco Extra store and 993-bed Northumbria University accommodation are also planned for Trinity Square, which is due to open in late spring.
Paul Dodsworth, project director with construction company Bowmer and Kirkland, said: "It's an exciting milestone for everyone involved and signifies the progress that has been made."
The tower crane will be dismantled using an even bigger travelling crane which is 330ft (100m) tall and weighs 500 tonnes.
The council said the work would be visible from street level during the weekend and the "most spectacular" part would be the removal of the tower crane's 214ft (65ft) long main jib.