Jarrow March protester Con Shiels dies aged 96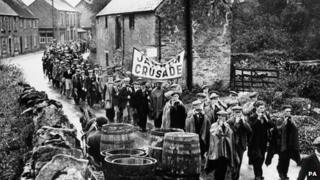 The last survivor of the Jarrow March, a famous protest against unemployment and poverty during the Great Depression, has died aged 96.
Con Shiels was part of the crusade that saw about 200 unemployed men walk from Jarrow in Tyneside to London in 1936.
Mr Shiels, who was 20 at the time, joined his father and the other protesters for the final part of the 300-mile journey.
He died aged 96 on 26 December. John Prescott called him an "inspiration".
Former Labour Deputy Prime Minister Mr Prescott tweeted: "Rest well comrade. You were an inspiration to us all."
Also on Twitter, Steve Turner, a policy director for the union Unite, wrote: "Always remembered Con Shiels last of the Jarrow marchers (1936) RIP. Growing poverty and unemployment need new 'rage against poverty' 2013."
Stephen Hepburn, Labour MP for Jarrow, said: "It was a privilege to know him. Con may have departed but his life and that of his comrades will live forever as an inspiring example of the fight for justice.
"It initially achieved little but gathered more as the years rolled on. Con may be dead but his life shines on."
In October 1936, the group carried an 11,000-name petition to London to demand help from the government after the closure of their shipyard.
Cornelius Whalen, the last survivor of the march to walk the entire 300-mile journey, died in 2003.
A group of protesters re-enacted the march highlighting youth unemployment in 2011, the 75th anniversary of the original journey.