South Tyneside Hospital's 'high demand' cancels surgeries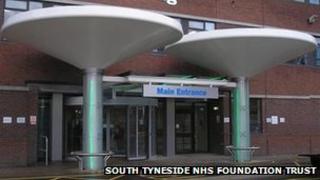 Planned surgeries at South Tyneside Hospital have been cancelled after an "unprecedented" volume of admissions to A&E left the hospital with no beds.
South Tyneside NHS Foundation Trust said "high volumes" of people who did not need immediate attention had been attending A&E over the festive break.
The trust said because of this it "sadly" had to cancel all planned surgery as there were no free beds.
However, emergency operations are still being carried out.
Last month there was a 22% increase in attendances in A&E at the hospital compared with December 2011.
'Winter illnesses'
Dr Shaz Wahid said: "At this time of year, we usually see an upsurge in emergency attendances at hospital with a range of winter illnesses... however, I have worked 10 Christmases at this hospital and I have never seen it as busy.
"Normally, we would expect to get about 150 to 180 attendances a day at A&E but we have been averaging well over 200 in recent days. On one of the days over the holiday period it even rose to 250."
Mr Wahid said the Norovirus could be a possible contributory factor to the increase in the number of patients.
Chief executive Lorraine Lambert said: "Despite opening a significant number of additional beds, we are having great difficulty in accommodating those very sick patients who require a bed in the hospital.
"We would ask people to do their very best to attend their GP practice, minor injuries units, walk-in centres, or local chemist for advice and avoid attending A&E wherever possible."
The trust said surgery was currently planned for Thursday, although beds were "very congested".