Amble wins government cash to host puffin festival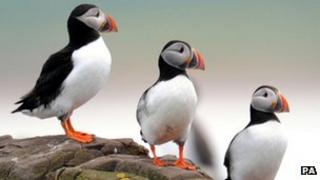 A puffin festival is to be hosted by a Northumberland town to encourage tourism thanks to a £10,000 grant awarded to help regeneration.
Amble's Development Trust and Business Club has been awarded the cash from the government for a campaign to encourage residents to shop locally.
The first Puffin Festival will take place in May to coincide with the best time to see the birds on Coquet Island.
It will feature community exhibitions, children's events and live music.
Amble Action Group member Ann Burke said: "I'm thrilled the Puffin Festival can go ahead. So many people are so enthusiastic about it already, so many organisations want to take part. It's going to be a great community event.
'Excellent opportunity'
"We hope this will encourage tourism. Amble is unique in having an island so close where the puffins breed.
"It will be an excellent opportunity to see the puffins and pufflings and we want to celebrate that."
Colin Harris, chairman of Amble Business Club, said: "We'll be consulting with local businesses for ideas to encourage local people to spend money in Amble first, before going out of the area.
"It's not just about retail, we want people to use local service providers, tradesmen and professional services as well."
The money has been awarded by the Department for Communities and Local Government through its Town Team Partners scheme.
Each year in spring and summer Coquet Island, which is a Royal Society for the Protection of Birds (RSPB) managed nature reserve, becomes home to 35,000 nesting sea birds, some coming from as far away as Africa.