Burnopfield car crash survivor Candace Emptage drives again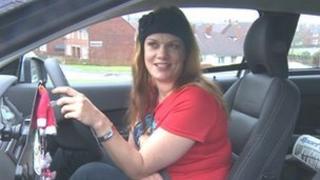 A woman whose family was told she would not survive after a car crash left her in a coma, is back behind the wheel.
Candace Emptage, from County Durham, was on a life-support machine for two months after her car was in collision with an ambulance in 2010.
The ex-model, of Burnopfield, suffered severe brain injuries and had to learn to walk and talk again.
Now driving again, after re-passing her test, she has put stickers on her car to make sure she recognises it.
It also has a sticker on the back window with the warning: "Serious car crash victim - the closer you come the slower I go".
'Have life back'
Ms Emptage, who recently passed a DVLA drivers' assessment test, said: "One day for no reason, quite randomly, I decided to take the car out and I really enjoyed it, loved it in fact, but generally I find it quite hard.
"To me driving was the final part of my recovery, I've done it, I've proved it and I now have my life back."
Ms Emptage's Toyota MR2 was involved in a collision with an ambulance near Rowlands Gill, Gateshead in September 2010.
It took the emergency services more than an hour to cut her free.
The 38-year-old had no memory of the crash and her family, including daughter Maddie, 15, was told to consider switching off her life support machine at Newcastle General Hospital.
But she eventually came round and underwent months of intensive physiotherapy and speech therapy.
"I've got memory problems, but driving comes naturally - I didn't have to relearn it," she explained.
"We all know drivers don't use road markings or indicate properly, I've had to re-learn all that again.
"I'm trying to prove a point by driving again - the doctors said I wouldn't, so I said: 'Will I not?'"