Christopher Rochester's family in wait for test results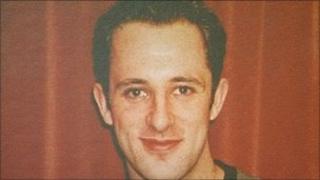 The family of a man whose body was exhumed for DNA tests 11 years after his death has made a renewed attempt to obtain the results.
Christopher Rochester from County Durham died in hospital after falling from a hotel balcony in Greece.
His family wants to know why a kidney was missing from his body.
Mr Rochester's stepfather George Cummings said authorities in Greece had now asked the family to make a new legal request via a solicitor.
"The Greeks contacted us through the Foreign Office to state that they would only release the results to the family if the request was made properly through a solicitor," Mr Cummings said.
After his death in 2000, Mr Rochester's body was returned to the UK with a kidney missing and tests paid for by his family showed an organ returned later was not his.
The 24-year-old's body was exhumed from a cemetery in Chester-Le-Street last year with DNA results sent independently to Brussels.
His family has now been asked to make a formal request through a solicitor.
Mr Cummings said: "We've requested them, Durham Police have requested them, Kevan Jones MP has requested the results and we've all been given absolutely nothing.
"We've lived with this for coming up 13 years now.
"It may take several months but we will get those results. Until we do we can't move on."