Sir Bobby Robson's cancer charity raises £4.7m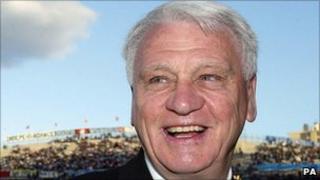 The charity founded by Sir Bobby Robson has raised £4.7m, the widow of the football legend has revealed.
Lady Elsie Robson joined fundraisers and patients at Newcastle's Freeman Hospital to thank the "generous people" who had helped over the past year.
The former England, Newcastle, Ipswich and Barcelona manager set up the charity in 2008 to fund cancer treatment and research.
He died in 2009 after his fifth battle against the disease.
Lady Robson says: "The [Sir Bobby Robson] Foundation continues to be a great team effort against cancer and this really has been a great year for that team.
"No doubt Bob would compare it to winning the league.
"We can only help the experts find better ways to detect and treat cancer with help from all the generous people who support us and I'm very grateful to everyone who has contributed in any way."