City of Adelaide: Export row rudder arrives in Australia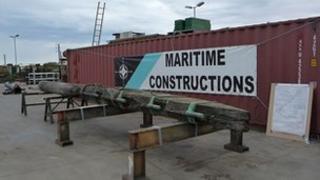 The first piece of a 148-year-old Sunderland-built clipper ship at the centre of an export row has arrived in Australia.
The City of Adelaide was built on the River Wear in 1864, but has lain on a Scottish slipway since 1992.
The ship's rudder is the first section to be exported to Australia to form part of a heritage complex, despite the efforts of campaigners on Wearside.
The main ship is to due to leave for Adelaide, Australia, in March 2013.
A consortium from Adelaide beat a rival group in Sunderland in competition to turn the vessel into a tourist attraction in 2010.
The vessel's 30ft (9m) rudder, which became separated from the main ship in 1988, was shipped from Irvine, Scotland, in October.
The Sunderland City of Adelaide Recovery Fund (Scarf) had hoped to block the rudder's export, claiming it and the rest of the vessel should return to the city where it was built as a maritime attraction and museum.
'Cultural links'
The ship's owners, the Scottish Maritime Museum and Historic Scotland, have supported the vessel's export to Australia, dismissing plans by Scarf to move the ship to Wearside as "not technically feasible or properly costed".
Peter Christopher, chairman of the City of Adelaide project in Australia, said: "The arrival of the rudder is not only the first visible proof of success, but it has enabled us to fully test all aspects of a major logistical exercise, clearing the way for the City of Adelaide itself.
"Phase two will see the arrival of the City of Adelaide here next year.
"We will recognise that the ship was built in Sunderland and its arrival will strengthen our already close cultural links with Scotland."
But Peter Maddison, from Scarf, said: "We believe we still have a chance to secure the City of Adelaide for Sunderland.
"Getting a rudder to Australia is not the same as getting a 400-tonne ship there.
"We are planning to put a new proposal to the Scottish government which would mean we would be able to bring the ship back to Sunderland without calling on any public funds."
Sam Galbraith, chairman of the Scottish Maritime Museum, said: "This is a really significant step in the ship's future and takes us further along in the preservation of this wonderful historic vessel."
Scotland's culture minister Fiona Hyslop added: "This is the first stage in the historic vessel's journey across the ocean to her new home in South Australia.
"We are all working together to ensure that we all benefit from the shared history and heritage links with Scotland, Sunderland and South Australia."