Richard Morgan jailed for killing Slater Sharkey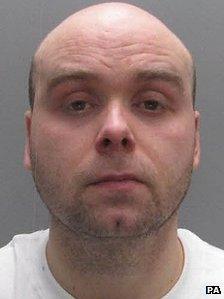 A factory worker who shook his girlfriend's baby son to death has been jailed for seven-and-a-half years.
Richard Morgan, from Tantobie, County Durham, was convicted of manslaughter after a four-week trial at Newcastle Crown Court.
Mr Justice King said the 33-year-old had become "frustrated" while Slater Sharkey's mother was out shopping.
The judge accepted Morgan had not intended to cause the 13-month-old serious harm.
Bruising inflicted before the boy's death in December 2010 could not be proved to have been caused by Morgan, the judge said, but there was "clear evidence" of assaults over a 24-hour period leading up to it.
Mr Justice King told Morgan: "Your killing of Slater was the result primarily of your forceful shaking of the child, in a momentary loss of control, at a time when you had become frustrated by his whingeing and crying due to him in all likelihood being separated from his mother.
"Whatever the circumstances leading you to becoming frustrated at the child's behaviour, nothing justifies Slater becoming treated in this way."
Slater's mother, Rachel Peacock, who had been living with Morgan for two months, was cleared by a jury of causing or allowing her son's death, but she was handed a 12-month community order after being convicted of a cruelty charge.
The charge related to an incident a month before Slater's death when she did not take him to hospital despite advice from a doctor.
During the trial, Morgan claimed he had left the baby for a moment in the living room and came back to find he had collapsed.
Soon after Peacock returned from the shops, he claimed, they rushed Slater to Shotley Bridge Hospital before he was taken to the University Hospital of North Durham.
Outside court Det Ch Insp Steve Chapman said: "This was all about Richard Morgan taking responsibility for his actions.
"He has always said it was not him, and ultimately the jury found him guilty.
"For the family, this was all about getting a conviction."
Related Internet Links
The BBC is not responsible for the content of external sites.