Lacrosse history made at Durham University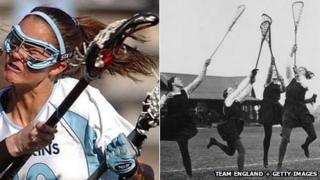 To the uninitiated, lacrosse is a minefield of misconceptions.
It is not a quintessentially English, women-only sport and the exclusive preserve of public and private schools.
It has Native American roots, is played all over the world and the national squad has male and female teams with players from state schools.
One thing everyone seems to agree on, though, is that lacrosse can be very rough.
"It is quite a violent sport," said Hannah Lowther, Durham University's women's club captain.
"You know that you're at risk as well. But it's exhilarating, exciting, a fast-paced game."
Durham has just become the first university to be given High Performance University status by English Lacrosse, the sport's national body.
Family tradition
English Lacrosse wants to develop its system for getting the best players through to the national academy and, ultimately, the England squads.
But not just university players - it considers local clubs and schools important too.
Despite lacrosse's reputation as an elite sport, there are many players on the national team who did not go to public school or university.
One is Tom Gosnay, a midfielder whose education ended after state school in Stockport.
He started playing seriously when he was eight years old, following a family tradition that goes back three generations - his father and uncles all played for England.
His friends would ask him about "the game with the fishing net" and he would explain it was like ice hockey - fast and hazardous.
While the women's game is non-contact, the men wear padding and helmets for a reason. Anything below the head and above the waist is - up to a point - fair game.
To the Native Americans who invented it in the 15th Century, "baggataway" was a way of settling disputes or training men for war.
'Lot of mystery'
The modern name is believed to come from French missionaries who thought the stick looked like a cross.
Miss Lowther, who started playing at Harrogate Ladies College aged 11, finds the game's history part of its appeal.
"It's not as well known as, for example, hockey so there's still quite a lot of mystery," she said.
Jonathan Bland started playing at Durham University and is now its men's club captain.
"I love that it's full contact. It's just a bit like rugby but a bit more aggressive, really," he said.
Some of his friends do not appreciate how "violent" the game is, thinking it is "a girl's sport".
Talented players of either sex will be supported by their new partnership, said English Lacrosse and Durham University, and participation in the sport would be encouraged throughout the community.
National club development manager for English Lacrosse David Coldwell said: "High Performance Universities are an important step for English Lacrosse.
"Talented athletes are not only searching for a university that meets their academic requirements but also one that will assist in developing their lacrosse careers."