Tyne Bridge and Grey's Monument to be lit by sponsors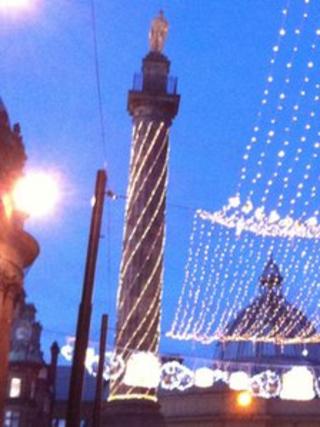 Two of Tyneside's best known landmarks could soon display adverts to help the council raise cash.
The city council can no longer afford the £140,000 bill to light up the Tyne Bridge and Grey's Monument at Christmas and is looking for a sponsor.
And council cabinet member Henri Murison even warned future displays could be "gaudy" - but the authority cannot afford to be "fussy".
It needs to trim £90m from its budget over the next few years.
In October, it criticised Newcastle United's sponsorship deal with loan firm Wonga.
The council can afford to cover the Christmas lights bill for this and 2013 but wants to strike a sponsorship deal for 2014.
Mr Murison said: "We are not going to be fussy because, frankly, as a city council we cannot turn away any support financially.
"If you have a business proposition which will help keep the lights switched on we want to hear from you now. The proposition needs to be good value for money, be of interest to the city and maintain its high standards."
During the rest of the year only the bottom of Grey's Monument is illuminated but at Christmas lights are placed all the way up the 130ft structure.
Built in 1838, the column honours Charles Earl Grey, who was prime minister from 1830 to 1834. He was involved in bringing in the act of parliament to abolish slavery in 1833.
'City's values'
The Tyne Bridge is always lit up at night, but at Christmas extra festive lights are installed.
Mr Murison did not rule out any particular businesses for the deal, but said it would be better if the firm was associated with Christmas and that the sponsor's "values" represented the city.
He said: "As long as we were convinced a sponsor's values represented the interests of the city we would be happy to take their support.
"Our test would be how 'Christmassy' a brand is."