Sarah Gosling murder: Police error led to 'missed opportunity'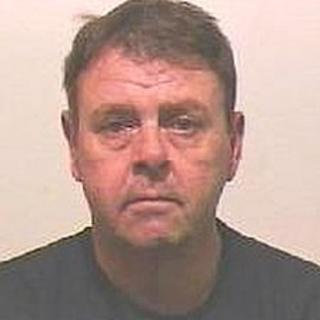 Police failures led to a "missed opportunity" to prevent a man with a history of domestic abuse killing his partner, a report has found.
Sarah Gosling, 41, was stabbed to death by Ian Hope, 53, in February after he subjected her to sustained violence.
Police were called to the house hours before she died, the Independent Police Complaints Commission report said.
But the officers were unaware of Hope's violent history after police previously misspelled his Newcastle address.
During Hope's trial last month, Newcastle Crown Court heard that he had repeatedly assaulted Ms Gosling during their relationship.
He was found guilty of murder and he was sentenced to serve at least 17 years in prison.
The couple, who lived in Tewkesbury Road, Lemington, had first come to the attention of police in 1999 over domestic abuse allegations, the IPCC report indicated.
However in writing up a report on the call, officers entered the address incorrectly on the force computer, resulting in later incidents of Hope's violence being logged in the wrong location.
'Management advice'
Documents on the case show that on 25 February, police attended Ms Gosling and Hope's home after reports of shouting and paper being thrown out of a window.
The couple were warned about littering by the officers, but no further action was taken.
The IPCC said this was because the control room had no information to link the occupants of the address to domestic abuse, due to the spelling error.
The IPCC report said: "Although the officers who attended believed it to be a straightforward case of anti-social behaviour they did not investigate the matter thoroughly.
"They did not ask for Mr Hope's name and although they had Ms Gosling's name they did not ask for a computer check to be run."
The report said the two officers involved had been given "management advice" over their failures.
IPCC Commissioner Nicholas Long said: "It is clear that Ms Gosling and Mr Hope were in an abusive relationship which ended in horrific circumstances.
"It is tragic that such an apparently simple error of misspelling a street name could undermine the positive work done by the police force and result in two officers not having the relevant information that might have assisted them to deal with one incident differently.
"Although we can say there was a missed opportunity, we cannot speculate that if the officers had the information about the couple's history they would have identified an ongoing abuse situation and prevented the murder."
But Supt Steve Wade from Northumbria Police said they were disappointed with the report.
He described the misspelling as a "red herring" because they had never had an incident of domestic violence lined to the Tewkesbury Road address, whichever way it had been spelled.
He said they had tried to prosecute Hope several times and on that night the complaint did not involve domestic abuse.
But the force also acknowledged there were areas for improvement and steps had been taken including extra training for officers around domestic abuse and changes to its computer system.