Hetton Silver Band Hall: Beamish Museum in cash appeal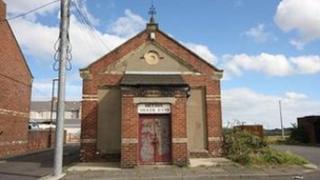 A museum is appealing for help to raise £30,000 to finish rebuilding a century-old Sunderland band hall.
Hetton Silver Band Hall, built in 1912, has been moved brick by brick from its home in South Market Street, in Hetton-le-Hole, to Beamish Museum.
The hall closed in 2009 and was donated to the museum to be rebuilt in the attraction's Colliery Village.
The museum now needs £30,000 to complete the £280,000 project. It is hoped the hall can open in the summer.
Richard Evans, director at Beamish Museum, said: "It's a fantastic project, it's really what Beamish is all about.
"One of the great things about this project is how proud people are from Hetton that a little bit of their history is coming to the museum and we'll look after it forever more."
'It's about the stories'
When rebuilt, the band hall will help to illustrate what everyday life was like in a typical North East colliery community.
Mr Evans said: "We're going to use it for band practising, for community use and for schools... and they'll learn what life was like in the early part of the 20th Century in a typical pit village.
"If you looked at it, you'd think it was pretty unremarkable, it's just one of those things that you would see in a typical back street in many towns and villages across the region.
"But for us, it's not about the bricks and mortar, it's about the stories within the building and the story that we can tell about what life was like."
Hetton Silver Band, which was founded in April 1887, built the hall 100 years ago after winning money in a national competition.
The hall was used until 2009 when the band merged with Durham Miners' Association Brass Band.
To save it being lost forever, the association donated the building to Beamish.