Sunderland 'delighted' to host Grayson Perry tapestries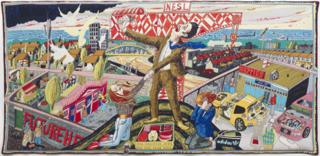 Sunderland is to play host to six tapestries created by Turner-prize winning artist Grayson Perry.
The city is the first venue in a national tour of the works which were created alongside a Channel 4 series of his exploration of British taste.
It was the subject of his first visit and provided the setting for the Agony in the Car Park and the Adoration of the Cage Fighters.
They go on show at Sunderland Museum and Winter Garden from June.
The six tapestries, entitled The Vanity of Small Differences, were inspired by William Hogarth's A Rake's Progress, and include many of the characters and incidents Grayson Perry encountered while travelling through Sunderland, Tunbridge Wells and the Cotswolds for the series.
'Really very special'
The exhibition will continue to Manchester, Birmingham, Liverpool and Leeds.
John Kelly, portfolio holder for public health, wellness and culture at Sunderland City Council, said: "We are absolutely delighted that Sunderland Museum and Winter Gardens is to be the first venue on the national tour of the tapestries.
"The opportunity to see great art in familiar surroundings, together with the fact that something of this city's people and character has been captured by Grayson Perry is really very special."