Dunston FC stand destroyed by arsonists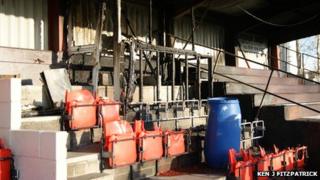 A Tyneside football club has blamed "determined arsonists" for destroying a 200-seat stand at the second attempt.
Dunston UTS FC in Gateshead has estimated the damage at £20,000 after the structure was torched on Monday.
Chairman of the Northern League club, Malcolm James, said the stand had been targeted 24 hours earlier, when a handful of seats were damaged.
No-one was hurt in the incidents, but the club said the stand would be out of use for the remainder of the season.
Northumbria Police said it was treating the incident as arson and believe the fire was started "maliciously".
The club, which was formed in 1975, won the FA Vase earlier this year.
'Complete mess'
Mr James said: "These people knew what they were doing.
"They tried on Sunday night, but only managed to damage about 20 seats.
"We could have lived with that and paid for the repairs ourselves. But this is devastating and the place is a complete mess.
"We were training at the club until 7:30 last night and by 8:15 the fire brigade were trying to put out the fire. So these people must have been waiting for us to leave."
Mr James said the stand would be out of action for the remainder of the season, which was likely to hit gate receipts.
He added: "We have another standing area for supporters, but people like a covered stand in winter and don't always want to stand out in the cold."
He said the attack would not affect future home games as the fire had not spread to other buildings or damaged the playing area.