Royal opening for renewable energy facilities in Northumberland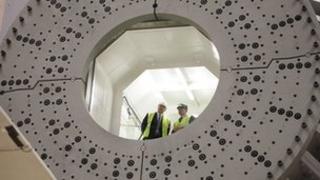 The Duke of York has opened two facilities in Northumberland that will test renewable energy technologies.
The wind turbine blade and tidal turbine testing facilities were developed at the National Renewable Energy Centre, Narec.
The £33.6m project was funded by the UK government and the European Regional Development Fund.
Prince Andrew took a tour of a £45m centre currently under construction for the testing of offshore wind turbines.
Andrew Mill, chief executive at Narec, said: "Each facility is world-class in its own right and together with our existing capabilities they provide the most comprehensive facilities anywhere in the world to enable the scale-up of renewable energy technologies offshore."