Rare bowl found in Newcastle home up for auction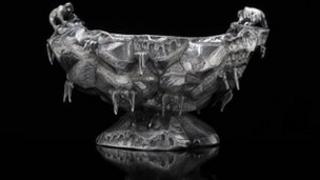 A rare silver American ice bowl found in a Newcastle home is expected to fetch about £5,000 at auction.
The textured bowl, found at a house in Darras Hall, features two polar bears on each handle.
It was made to commemorate the US purchase of Alaska from Russia in 1867.
Auctioneer Anderson and Garland said he was expecting "a lot of interest" due to the bowl's "historical significance". The auction is due to be held on Wednesday.