Couple caught with drugs at Newcastle airport jailed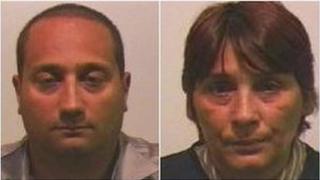 A Czech couple have been jailed after admitting attempting to smuggle four kilos of Class A drugs into England.
Maros Kristof, 42, and Eva Makunova, 45, were stopped by Border Force officers at Newcastle International Airport after they landed on a flight from The Gambia on 22 May.
Drugs with a street value in excess of £150,000 were found in their suitcases.
At Newcastle Crown Court, Kristof was sentenced to six years in jail and Makunova to four-and-a-half years.
The pair claimed to be travelling to London, but gave a false address when questioned.
Both pleaded guilty after 2.5kg of cocaine and 1.5kg of methamphetamine were found in their luggage.