Ian Hope jailed for life for murder of Sarah Gosling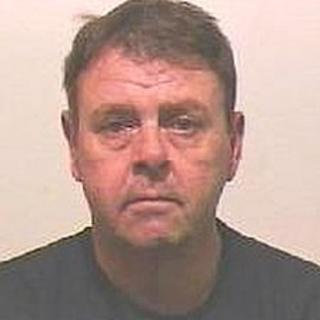 A Newcastle man has been jailed for life for murdering his partner who was nagging him, he told police.
Sarah Gosling, 41, died in February from a single stab wound after a row at the house she shared with Ian Hope, 53.
Hope had denied murder, but a jury at Newcastle Crown Court found him guilty. He will serve at least 17 years.
The police watchdog is investigating contact Northumbria officers had with Ms Gosling, after they were called to the house hours before her death.
The court was told Hope had repeatedly assaulted Ms Gosling, originally from Guernsey, during their relationship, but his final attack left her with no blood left in her body.
The kitchen knife wound to her chest severed an artery and led to rapid bleeding and then death.
When police asked what had happened, Hope said: "She's been on at me."
'Systematic and brutal'
He had claimed the knife "ended up in her" after she hit him with a bottle during a row at the house they shared in the Lemington area of the city.
Judge Paul Sloan QC said: "Perhaps because she had the temerity to fight back you armed yourself quite deliberately with a kitchen knife and you set about attacking Sarah Gosling with that knife."
The court heard police had been at the house hours before after a reports of a disturbance, but left after assurances from the couple.
The jury was told Ms Gosling had suffered 10 black eyes in a year at the hands of Hope.
An Independent Police Complaints Commission (IPCC) investigation into the contact Northumbria Police had with Ms Gosling is due to be published next month.
After the verdict Ms Gosling's brother Andrew Bernard, said: "Nothing could have prepared me or Val, my wife, for hearing of the systematic and brutal way he controlled Sarah and the violence he meted out 'to shut her up'.
"The pain that his killing of my sister has left us with will remain always."
Det Ch Insp Christina Barrett, of Northumbria Police, said: "Hope has shown no remorse whatsoever and has never admitted his actions, continually denying he murdered Sarah.
"I'm satisfied with the verdict of the court and hope the jail term handed down will give Sarah's family and friends, in some small way, comfort to know he will spend a considerable amount of time in jail for his actions."