Lord Puttnam's 'lovely challenge' as Sage chairman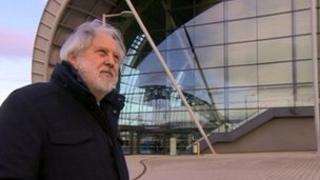 The outgoing chairman of Sage Gateshead, Lord Puttnam, has said he will be "sad" to hand over the reins.
Describing his five years at the music and education centre on the south bank of the River Tyne, he said it had been a "lovely challenge".
The 72-year-old revealed he has been offered a government role as envoy to South East Asia.
His replacement has been named as former Labour Lord Chancellor, Lord Falconer.
Lord Puttnam said: "The good ship Sage is a big ship, it's a complicated ship, and keeping it afloat hasn't always been that easy.
"It's been a challenge, but a lovely challenge.
'Wholesome vision'
"We have a mixed funding system. Only 22% comes from the Arts Council, which is a very, very low percentage, given the complexity of this organisation."
He praised Gateshead Council for its continuing support for Sage.
"Their determination not to drop their standards or lose their vision has been extraordinary," he said.
"Never forget that most of those five years have been post-crunch, they weren't sunny uplands years, these were difficult years.
"I'm not a bible-basher, but it says in the bible that where there is no vision the people perish.
"And I really believe that if people don't have a vision for a better future, if they don't believe that something is happening in their patch which is going to give their kids and grandchildren a better life, something goes wrong and it can go wrong quite quickly.
"What I think the council has done here in supporting the Sage has kept the vision clean and wholesome."
Referring to the North East, he added: "I've got a huge depth of affection and admiration for the region.
"I'd like people to realise what an extraordinary depth of talent there is in this part of the world.
"My dream gig would certainly include [local musicians] Mark Knopfler, and Sting, and I'd like to see them gather together everyone they know in the region who they believe is genuinely talented.
"The other thing I'd like to see would be the Northern Sinfonia holding a flash mob at Gateshead Metrocentre.
"That would be fantastic."