Newcastle United football medals to go under the hammer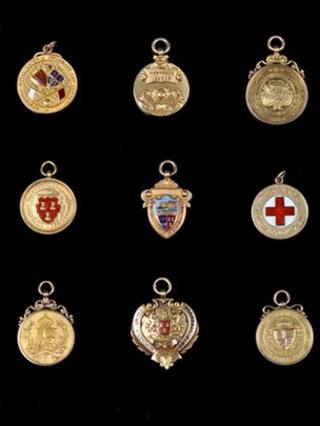 A collection of football medals awarded to a former official at Newcastle United Football Club are to go under the hammer.
Frank 'Guv'nor' Watt was club secretary from 1895-1935 and nine medals awarded to him in that time will be offered for sale at an auction in the city.
Newcastle United historian Paul Joannou said it was arguably one of the club's finest periods, during which it won four league titles and made six FA Cup Final appearances.
The medals, valued at up to £6,000, are included in an auction of sporting lots to be held on 4 December by Anderson and Garland of Newcastle.
Mr Watt, born in Edinburgh, was formerly a referee. In his position at NUFC he had a major say over team selection, as well as influence with the owning committee in the days before managers.
The collection includes The Football League Champions Division winners' medal 1926-27, The Newcastle Royal Infirmary Cup Competition winners' medal 1920-21 and The English League Championship winners' medal 1906-07.
Fred Wyrley-Birch of Anderson and Garland, said: "The football medals belonging to Frank Watt are a fantastic piece of sporting history and NUFC fans will tell you how ambitious he was for the club.
"For that reason and due to his success at the club, we expect the collection to sell extremely well."
Also going under the hammer is a large collection of sporting press photographs from the 1980s, including black and white images of Kevin Keegan representing NUFC and other clubs and in Café Royal with Freddie Star and Elton John.
The third lot expected to attract interest from enthusiasts is a selection of early 20th Century local Harrier ephemera compiled by William Mirley of Elswick Harriers.