Civic Heart Arch future in residents' hands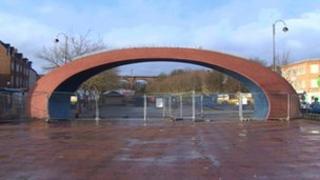 People in County Durham are being asked their views on the future of a prominent piece of artwork.
Durham County Council wants residents and businesses to decide whether Chester-le-Street's Civic Heart Arch should be repaired or removed.
The steel work in the town's Market Place, cost £300,000 to build, but is currently fenced off after it was found to have structural problems last year.
It costs the council £300 a month to monitor the site and check it is safe.
Councillor Neil Foster said: "It is clear a decision on the long-term future of the Civic Heart Arch needs to be made as soon as possible.
"However, this is a prominent artwork in the heart of the town so it is very important that we gather the views of as many local people as possible before we make any decisions."
The arch was built as part of the redevelopment of the town's market place and was formally opened in June 2007.
The consultation runs until 7 January 2013.