Newcastle City Hall has 'no long-term future'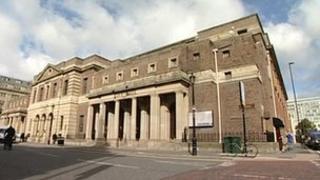 An 85-year-old concert venue on Tyneside could close within three years, the leader of Newcastle Council has said.
Nick Forbes said Newcastle City Hall had "no long-term future" and a new venue would be built beside the Sage Gateshead.
But he said he hoped the Grade II-listed building could be preserved.
A council spokesman said the closure was a proposal and it was hoped the venue could be sold.
More than 4,100 people have put their names to an online petition against the move was proposed as part of £90m budget cuts.
The council is also proposing to close and sell off the city swimming pool which is next door to the venue.
'Less bookings'
Mr Forbes said: "There is planned to be a new conference centre to be built next to the Sage in the next three years.
"We think currently the people who go to the city hall will be going to the new centre instead, because it will be a purpose-built and new.
"Over the next few years we believe the city hall will have less bookings.
"So it is better to be up front now and say the whole site - the city hall and pool - doesn't have a long-term future given the current funding climate.
"What we want to do is find an alternative solution so at least the building is saved - it is a fantastic Grade II-listed building."
The online petition was organised by members of the North East Music History group.
Hazel Plater from the group said it was important to protect the city's history after other popular venues had closed down.