Road and rail users face delays after more heavy rain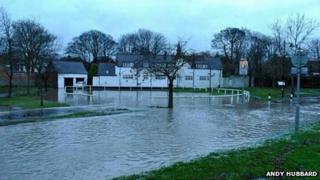 The impact of heavy rain was being felt across Tyne and Wear on Tuesday with disruption to roads and rail services.
The Environment Agency issued a number of flood warnings including for the River Wear in Chester le Street, in Durham City, and in its estuary.
Northumbria Police said roads were closed because of flooding and standing water affected some others.
East Coast Main Line rail services are expected to be disrupted until the weekend because of a landslide.
Heavy rain continued to fall across parts of the region on Tuesday, but the wet conditions have now eased.
Network Rail told the BBC it expected repair work on the East Coast Mail Line would continue until the weekend after damage caused by flooding.
An embankment slip at Aycliffe, between Durham and Darlington, damaged 2km (1.2 miles) of overhead line.
An embankment slip also damaged overhead lines at Hartlepool and Dawdon on the East Durham coast.
East Coast Trains said it would be running a limited service of three trains an hour.
One of the areas affected was Newburn in Newcastle, which was also badly hit in September, forcing the demolition of flats whose foundations were washed away.
Newcastle City Council technical director Mick Murphy, said conditions had been "horrendous" over the last few days and had put back work by several days.
He said The Winnings area had flooded, but the rock armour - more than 2,000 tonnes of heavy rock which has been put in place over the last few weeks - had worked well and had prevented further problems.
Durham County Cricket Club groundsman, David Measer, said: "The water is not coming over the riverbank itself, it is working its way up through any weak point and it's filling the ground up."
Whitburn Primary School, in South Tyneside, was closed.
'Worse and worse'
Alan Cadas from the Environment Agency warned people to avoid walking through water.
"Walking through flood water can be really dangerous if there are manholes which have just popped up underneath, so you could walk through flood water and find there's a great big hole underneath," he said.
Andrew Greener, from Tanfield Lea in County Durham, said he was concerned about the house he had bought recently.
"It should be okay but I've moved belongings upstairs to be safe," he said.
"I was speaking to friends as we always hear about bad rain and flooding but this just seems to get worse and worse."