Newcastle City Hall: petition launched to protect venue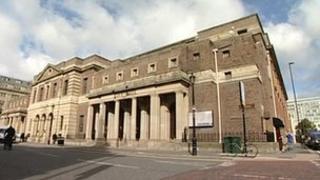 More than 1,000 signatures have been gathered on a petition calling on Newcastle Council to protect the future of the city hall.
The 85-year-old venue is currently "under review" after the council announced plans to cut £90m from its budget and axe 1,300 jobs.
Members of the North East Music History are calling for the city hall's "rich musical history" to be recognised.
The council is considering a number of options.
'Sensitivity'
It is investigating the possibilities of selling the site, entering into a partnership with one of the city's universities or transferring management responsibilities to a third party.
The future of the city hall complex would be "considered with a high degree of sensitivity", the authority said.
Hazel Plater from the North East Music Group said it was important to protect the city's history after other popular venues had closed down.
"It's not at all clear what Newcastle City Council's intentions are towards the city hall site," she said.
"Our group believes that the council should do whatever is necessary to save the city hall as a performance venue."
City pool
The council plans to save about £20,000 in the first instance by reducing staff levels at the venue's box office.
The adjoining city pool is due to close as part of budget proposals for 2013/14.
Funding to other venues including the Theatre Royal, Northern Stage and Live Theatre will come to an end.
A public consultation has opened on the council's plans.